Our Wine
Salento, where the land becomes wine.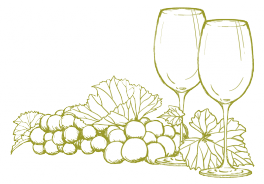 Our Wine
Created from clean and sustainable agriculture, in accordance with a landscape drawn by culture and tradition, since 2010 the wines of L'Astore are certified "products from organic grapes" and shortly our cellar will be fed by solar energy . Symbol of Salento in his vocation rosatista and old Negroamaro saplings; our production value to the ancient native grapes such as Malvasia Bianca Antica, Fiano Minutolo, Susumaniello, the Zagarese Primitivo, the 'Hellenic Aglianico of Greek Salento.
Salento, land of Negroamaro
Immersed in the Adriatic and the Ionian Sea, Salento is the land of sun, the winds and strong colors: the rich red of the earth and the wine, the dark green of the Mediterranean scrub that touches the white sand and blue sea, still the whitewashed houses, the trulli, dry stone walls, the silver sparkle of the olive trees, and the golden grain. All this is Salento, an ancient and noble land that lies in its wine, Negroamaro, his perfect emblem.
Organic Wines Certificates
Our vineyard produces organic grapes, grown without the help of synthetic chemicals (fertilizers, herbicides, fungicides, insecticides, pesticides in general) and without the use of genetically modified organisms;
In the cellar: winemaking using only the oenological products and processes authorized by Regulation 203/2012 also, within the limits and conditions imposed by the regulations, every certified organic producer, follows its own specific behavior, using oenological practices They are closest to the personal concept of "sustainable agriculture."

L'Astore Rosé Brut
brut rosé sparkling wine
Winemaking: from the first pressing of the grapes naturally you get the must LACRIMA said in Salento, this is fermented in temperature-controlled stainless steel tanks. Subsequently is a sparkling wine in an autoclave (Martinotti method) at a temperature of 15 ° / 16 ° C for at least 5 months.
Massaro Rosa
NEGROAMARO 100% igp rosé wine Salento
hard fatigue hands, living blood of wrath, moons of gall and honeymoons. of farm life of a man of noble spirit and sacred heart to his wife, patient guardian of fire.
Krita
MALVASIA WHITE  igp salento white wine
Land that turn into black hands cotta art the sun of the two seas. Lights and reflections of the East. Aromas and flavors shouted a relentless pace as notes of singers pinched.